Come check out our new menu items, new craft cocktails, and more!
We invite travelers and Littleton locals to check out our restaurant's updated menu with delicious new appetizers, juicy burgers, light fare, sandwiches, wraps, succulent entrees, and specialty cocktails.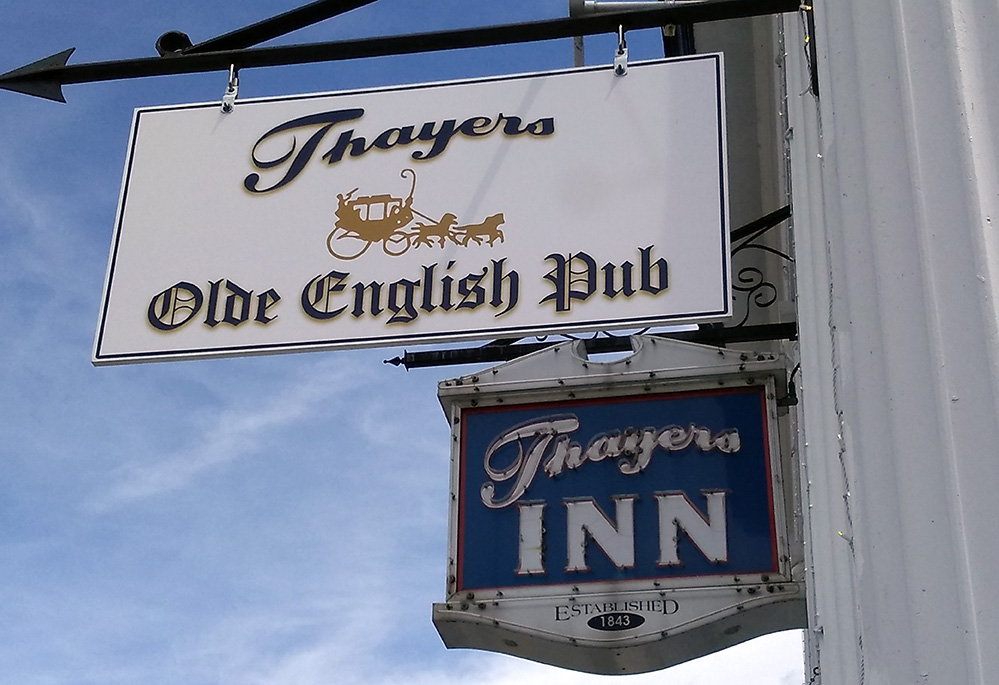 Thayers Olde English Pub, formerly Grille One Eleven, offers a great place to relax, whether you're spending the night at the Inn upstairs and want to sip a cold beer while watching the game on the big screen TVs or seeking a delicious dinner for the family. Everyone's welcome in our place. You never know who you might meet here!
With a lot of new food choices, great new craft cocktails, and upcoming entertainers, it just keeps getting better and better at the pub. In this blog, we're letting you know a little more about what to expect from the enhancements we're doing.
New Additions to the Dinner Menu
Appetizers
Joining the ever popular Potato Skins and Onion Rings, we have several new app choices, including cheese sticks, quesadilla, saucy chicken wings or boneless tenders, popcorn shrimp, Fiesta jalapeno poppers, balsamic bleu veggies, nachos tortilla, tempura battered broccoli bites, tavern tacos, and curry chapathi.
Complement these with dipping sauces in tastes ranging from the spicy ranch, horseradish, homemade dill ranch, spicy blue cheese, spicy avocado, and more.
Littleton NH Pub Grub and a Lot More!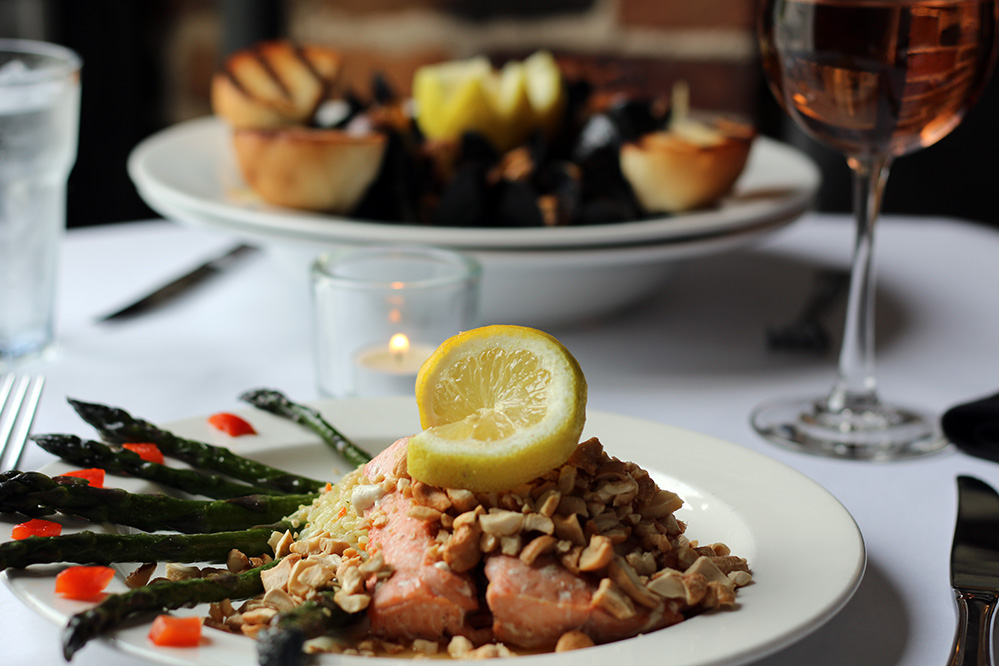 It's just not real New England pub grub without a pub burger. Ours comes in a half-pound all beef patty topped with cheddar cheese, lettuce, tomato, and onion on a buttery grilled brioche bun. Yum!
If barbecue tastes are more your speed, check out the Smoky Barbecue Beef sandwich or the Prime Rib Patty melt. Honey Dijon Chicken Sandwich. The Thayers Olde English Pub Grilled chicken is topped with honey mustard, cheddar, applewood smoked bacon, lettuce, tomato and frizzled onions on a brioche bun. The A.B.L.T. also comes with Applewood smoked bacon, plus avocado mayo, melted cheddar cheese, green leaf lettuce and tomatoes on grilled sourdough. Other choices include the Tuscan Caesar Wrap, the French Onion Crisp, Salmon Cakes, or the Veggie Wrap. All of these come with your choice of coleslaw or fries.
Lighter Fare Choices
If you're on a strict diet of greens, you can try the House Salad (Romaine lettuce with tomatoes, cucumbers, carrots and red onions) or the Cobb Salad (same as the House salad, plus grape tomatoes, bacon, hard-boiled egg, black olives, cheddar jack cheese, and grilled chicken added for good measure, plus shrimp if you want to include it).
New Entrees
But wait! We aren't even on the main course yet.
Our popular Surf and Turf remains on the menu, along with the Black and Blue (New York Strip topped with roasted garlic and bacon blue cheese butter), the Maple Balsamic Salmon, Thai Salmon, and Fish and Chips, but we've expanded the menu offerings to include new dishes like New England Baked Haddock, Chicken Lyonnaise, Curry Shrimp and Vegetables, Chicken and Broccoli Alfredo, Buffalo Mac and Cheese, and Sheppard's Pie. You never know when Chef Kirk Spencer may try something new and tasty!
Your Source for Original Craft Cocktails in Littleton NH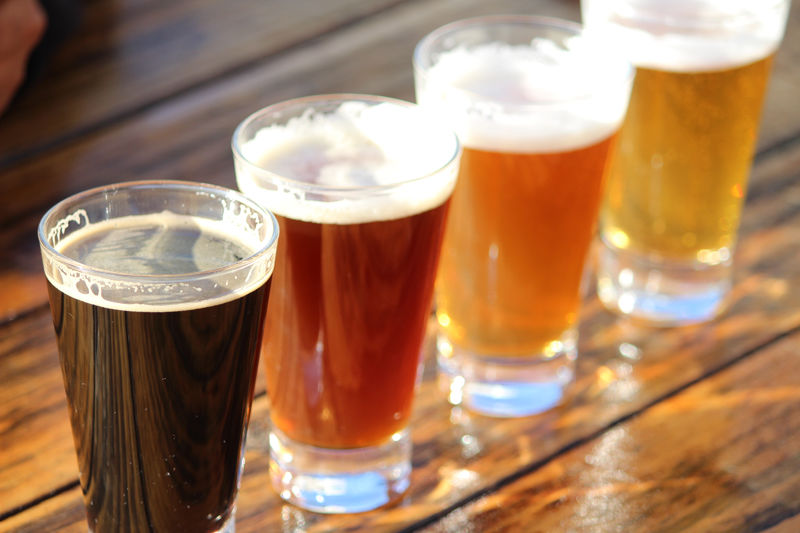 You need something to wash all of these delicious foods down with. You can find local and regional beers at Thayers Olde English Pub, plus a few English-style beers. You'll find a wide choice, like Budweiser, Bud Light, Michelob Ultra, Coors Light, Stella, Corona, Sam Adams Boston Lager, Miller Lite, Clausthaler, Smuttynose Robust Porter, Jacks Abby House Lager, The Shed Mountain Ale, Guinness, Tuckerman Pale Ale, Long Trail Limbo Ipa, Rogue Hazelnut Brown Nectar, Rising Tide Ishmael, Moat Mountain Hell Yess, MOAT Mountain Boneshaker Brown, Citizen Cider Unified Press, Peak Organic "The Juice", Kelsen Battle Axe 16 Oz Ipa, Stoneface Brewing Co Ipa, Moat Mountain Czech Pilsner, Old Thumper, Moat Blueberry, Allagash White Ale, Tuckerman Draught, and Stoneface Full Clip. We also have a wine menu.
But the big news is the addition of original craft cocktails to enhance your fun evening. These cocktails include Where's My Pants, Watermelon Splash, Veracruz Sunset, When Harry Met Megan, Spice Girl, Brighton Beach, Purple Rain, The Chiswick, Cool As A Cucumber, Privateer Float, Orange Smash, and the Thayers Teatime. You need to try them all at least once, and our drink specials make it more affordable to try!
New Nightly Specials
Who doesn't love a money-saving deal? We've offered daily specials for a while, but we've opened it up so you choose what you want to save money on…
Two-For-One Wednesday: Buy one entree and get the second free. Some restrictions apply, so talk to your server when ordering. Previously, Wednesdays were discounted for our mixed Grill Night.
Dine-To-Donate Night: Again, order what you want and we'll support worthy community groups with a fundraiser by donating a percentage of all food sales to the cause. Enquire for more info. We also love to host groups of up to 40 people in our event space.
Friday and Saturday: We'll be serving up a side of Live Music on weekend nights so you can make Thayer's Olde English Pub your place to be! More on that below, and you should check our Facebook Page for specifics.
Sunday: The mother of all specials was our Happy Hour All Day and Half Price Appetizer deal. Well, guess what… We still offer our amazing happy hour menu all day on Sundays, plus Half Priced Appetizers All Day from our selected options. We know you're happy to hear you can still get this great deal while watching the Patriots play this fall.
Come on down to Thayers for these great deals!
Thayers Olde English Pub: Where to Hear Live Music in Littleton NH
Adding a Dash of Entertainment to Your Experience
Look for upcoming announcements on musical guests joining us at Thayers Olde English Pub. We'd love to hear about the type of acts you want to hear! It's all part of our effort to create a fun, casual experience for our guests – whether they're travelers taking a break from the road for a relaxing night at the inn or our ever-faithful locals who come here to enjoy a bite and a cold beverage while talking to their friends.
Come Down and Check It All Out!
We hope these additions to our drink and food menus, as well as the specials we've listed, give you and yours great enjoyment. We're always working to improve on the experience at the restaurant.
Join us for dinner at Thayers Olde English Pub from 4-9 pm on Wednesdays,Thursdays, and Sundays. Lunch is served Friday-Sunday from 11 am to 4 pm, and the Friday and Saturday fun continues on to 10 pm. Hope to see you soon!
Copyright:
SaveSave
SaveSave