Historical Littleton NH Inn
NEARLY 175 YEARS OF HISTORY
In the early 1840's Henry L. Thayer was a successful Littleton, New Hampshire merchant with a dream to build a hotel more modern in equipment and character that others of its kind. Despite warnings of failure, the dream started taking shape in 1843 when he purchased the lot just east of his store. Although the exact year construction began is unknown, sources indicate January 14, 1850 as opening day for "THAYER'S WHITE MOUNTAIN HOTEL." Success was soon established due in part to the coming of the railroads to Littleton in 1852.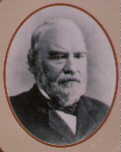 "Dad" Thayer, as he came to be known, built his success on the quality of service he offered "drummers" (salesmen) and other travelers to the area. Lackeys would deliver firewood for the fireplace or Franklin stove in order to heat the room, a candle to provide light, a pitcher of water for washing as well as the guest's own personal "thunder-jug". Bed sheets were turned down just before the guest retired for the evening and heated stones were placed between the covers to warm the bed. These were all regular services of the hotel. If further service was desired a buzzer could be used to summon a boy by ringing once, twice for a maid, and three times for water.
With its Greek revival architecture and commanding position on Main Street Littleton, the hotel maintains a long history of hosting Presidents, leading politicians, celebrities and other notable dignitaries.
A brief listing includes visiting Presidents Ulysses S. Grant, Franklin Pierce, Richard Nixon, Jimmy Carter and George H.W. Bush. Also stopping by were presidential aspirants General George B. McClellan, Governor Nelson Rockefeller, Governor Estes Ketauver, Governor George Romney, Senator Barry Goldwater, Senator Harold Stassen, Senate Majority Leader Robert Dole, author and political commentator Patrick Buchanan, and Senator Bill Bradley. New Hampshire Governors Sherman Adams and Hugh Gallen frequented Thayers Inn, as well.
Stagecoaches were owned and operated by "Dad" Thayer to transport guests between the hotel and the train depot as well as on tours of Franconia and Crawford Notches. On the tours travelers could choose between a first, second or third class fair. All classes occupied the same seats until the stage came to a steep hill, whereupon first class passengers remained in their seats, second class passengers were asked to get out and walk, while third class passengers were required to get out and push.
Henry L. "Dad" Thayer and his son Frank operated the hotel into the late 1800's. Originally named "THAYER'S WHITE MOUNTAIN HOTEL," regular guests called it simply "THAYERS." Through the years the hotel retained that label, dropping the apostrophe and the "WHITE MOUNTAIN" and finally in 1984 changing "Hotel" to "Inn."
Littleton native Robert C. Hill who served as the United States ambassador to five different countries (Costa Rica, El Salvador, Mexico, Spain and Argentina). Other guests include P.T. Barnum accompanied by "General" Tom Thumb, Publisher Horace Greely, Henry Ford, the notorious millionaire playboy Harry K. Thaw, arctic explorer Commander Robert E. Peary, WWII General Tomoyuki Yamashita – "The Tiger of Manila" (who lived at Thayers for the three months in 1940 while on a spy mission in the White Mountains on behalf of Japanese Intelligence), movie star Bette Davis, song writer Ed Bruce (Mama. Don't Let Your Babies Grow Up to be Cowboys) and author Michael Blake (Dances with Wolves). Come stay at Thayers Inn and make more history!
FAQ
When was opening day for Thayer's– back then known as Thayer's White Mountain Hotel?
Opening day for Thayer's was January 14, 1850.
Who built Thayers Inn?
Henry L. Thayer, a successful Littleton, New Hampshire merchant, built Thayers Inn.
What sealed the success of Thayers Inn?
Success was established due in part to the coming of the railroads to Littleton in 1852.
Who was "Dad" Thayer?
"Dad" Thayer was what Henry L. Thayer, Thayers Inn's founder, became known as.
What types of services was Thayers Inn known for in its earliest days?
Rooms were heated with firewood delivered to the rooms, candles provided light for guests, a pitcher of water was provided for washing, and sheets were turned down and heated stones placed between the covers to warm the beds.
Where in Littleton is Thayers Inn located?
Thayers Inn celebrates a commanding position on Main Street in downtown Littleton, New Hampshire.
What types of guests was Thayers Inn known for in its early years?
The hotel maintains a long history of hosting presidents, leading politicians, celebrities, and other notable dignitaries.
What presidents have visited Thayers Inn?
Ulysses S. Grant, Franklin Pierce, Richard Nixon, Jimmy Carter, and George H. W. Bush have all visited Thayers Inn.
What other celebrities have stayed at Thayers Inn?
Other celebrities who have stayed at Thayers Inn include P.T. Barnum, Henry Ford, arctic explorer Commander Robert E. Peary, Bette Davis, songwriter Ed Bruce, and author Michael Blake who wrote Dances with Wolves.
What is the address for Thayers Inn?
111 Main Street Littleton, NH, 03561
Historical Photos (click image below for details)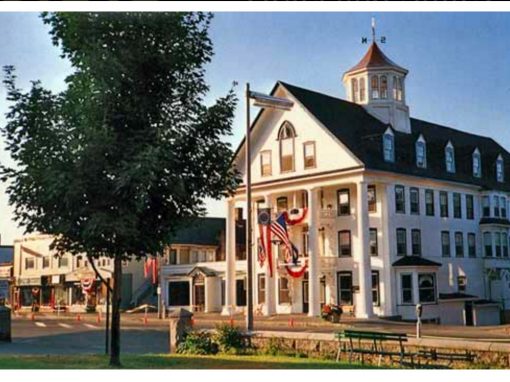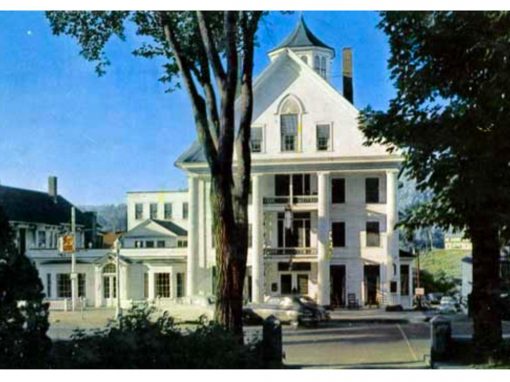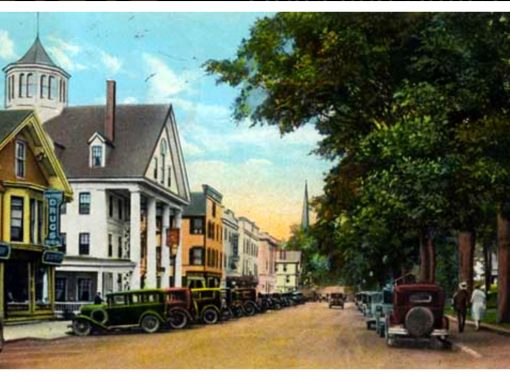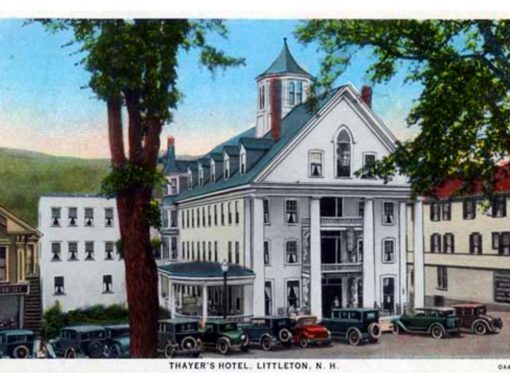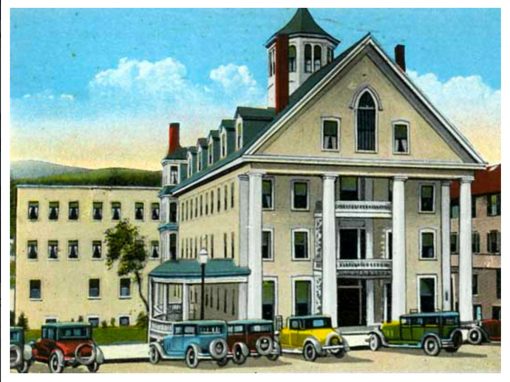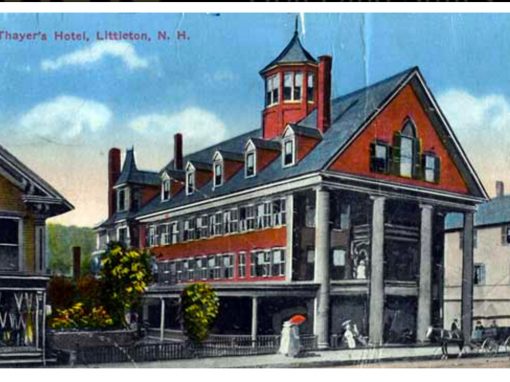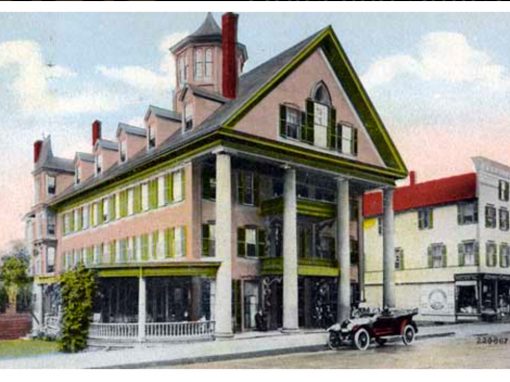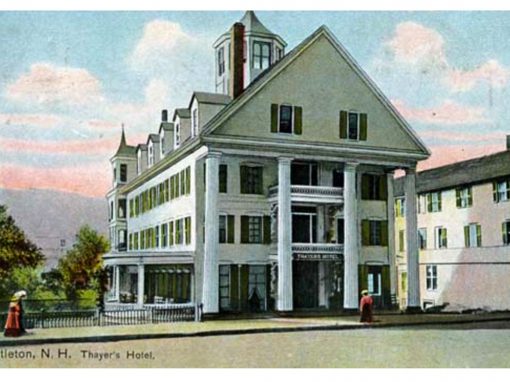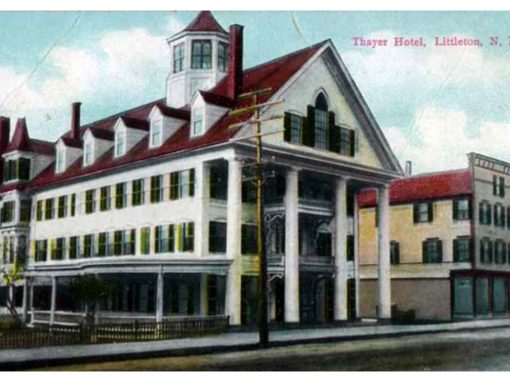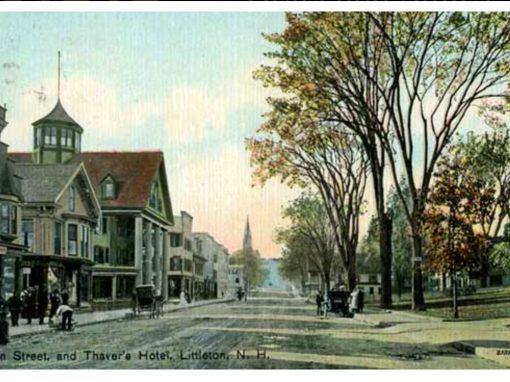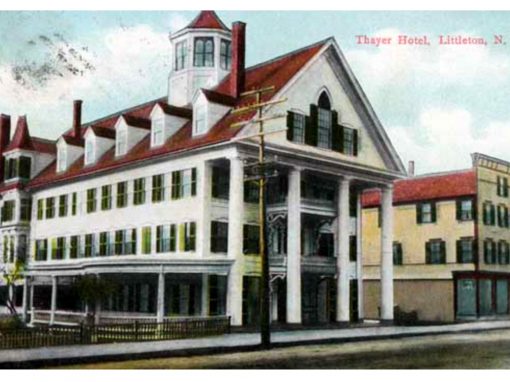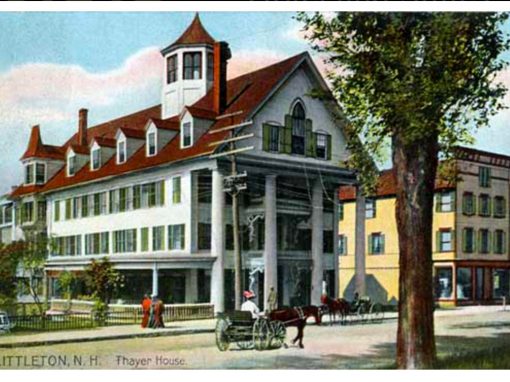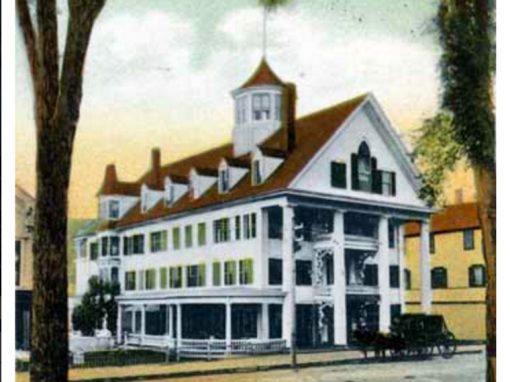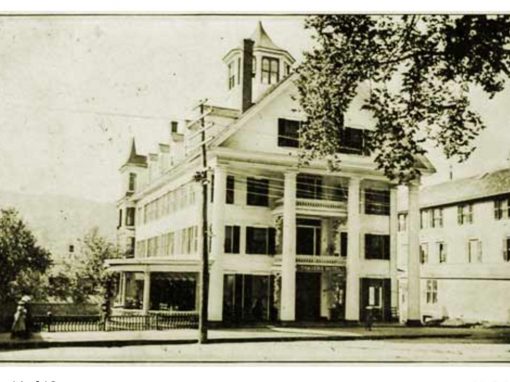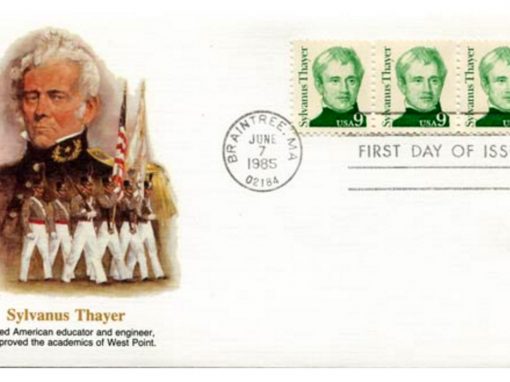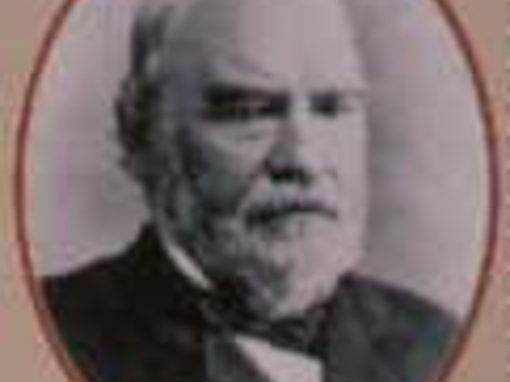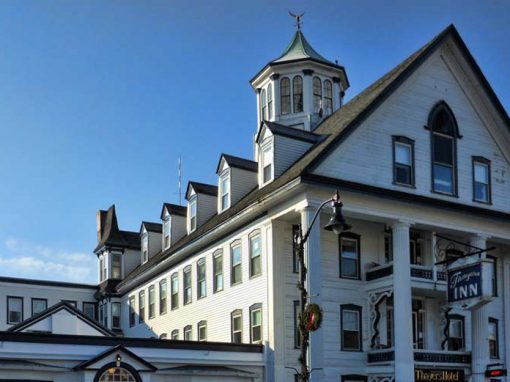 Thayers Inn
111 Main Street
Littleton NH, 03561