Settlers Green Outlet Mall & More
SHOPPING IN THE WHITE MOUNTAINS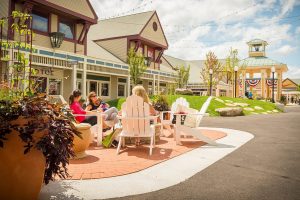 If you were born to shop, you're going to love the stores near Littleton NH!
Here in town, you should start by exploring the Little Village Toy & Book Shop, Bella Funk Boutique, Just L Antiques, and Saranac Street Antiques. Visit https://www.thayersinn.com/white-mountain-attractions/ for a more extensive list of Littleton's stores and antique venues.
Just down the road, your retail adventures expand to the Local Works Marketplace at WREN and Hundred Acre Wood Antiques in Bethlehem or the Sugar Hill Sampler in Sugar Hill. About 20 miles from Thayers Inn, outlet stores are the name of the game with two you can't miss in Lincoln NH – the Bass Shoe Outlet and Rodgers Ski Outlet.
A little further and you reach the mother lode: North Conway NH, home of Settlers' Green Outlet Village. Tax-free outlet stores include the Nike Factory Store, Banana Republic, Tommy Hilfiger, the Gap Outlet, Bass Factory Outlet, Old Navy, The Children's Place, American Eagle Outfitters, and many more. Make sure you leave enough room in your trunk for all the goodies you'll be taking home with you! Settler's Green presents year-round family events, plus there are great places to eat on-site and free Wi-Fi. You can save 30%-60% every day. See a map of the Outlet Village at http://www.settlersgreen.com/shop/maps – Located at 2 Common Court, North Conway, NH 03860.
Stores in Littleton NH
Littleton Food Co op
Littleton, NH
(603) 444 2800
www.littletoncoop.com
Love Yarn Shop
Main Street, Bethlehem, NH
(603) 869 2600
www.loveyarnshop.com
Chutter's
43 Main St, Littleton, NH
(603) 444 5787
www.chutters.com
Emma & Co. Consignment Boutique
47 Main Street, Littleton, NH
(603) 444 0304
Bella Funk Boutique
9 Main Street, Littleton, NH
(603) 444 6597
www.bellafunkboutique.com
Nest of Littleton
Main Street, Littleton, NH
(603) 259 3280
www.nestoflittleton.com
Sterling Works
Main Street
Littleton, NH
(603) 444 7618
Local Works Marketplace at WREN
2011 Main Street
Bethlehem, NH
(603) 869 9736
www.wrenworks.org
Details Interior Fashions
106 Main Street
Littleton, NH
(603) 444 7444
www.detailswindowfashion.com
Littleton Motorsports
515 Union Street
Littleton, NH
(603 444 5003
www.littletonmotorsports.com
The Healthy Rhino
Natural Foods & Natural Supplements
Parker's Market Place,
Main Street
Littleton, NH
(603) 444 2177
No Website
Chutter's
43 Main St,
Littleton
(603) 444 5787
www.chutters.com/candy-counter
League of New Hampshire Craftsmen
81 Main Street
Littleton, NH
(603) 444 1099
www.littleton.nhcrafts.org
Little Village Toy & Book Shop
81B Main Street,
Littleton, NH
(603) 444 4869
www.littlevillagetoy.com
Harman's Cheese & Country Store
1400 Route 117
Sugar Hill, NH
(603) 823 8000
www.harrimanscheese.com
Northeast Kingdom Artisans Guild
430 Railroad Street,
St. Johnsbury, VT
(802) 748 0158
www.nekartisansguild.com
Corey's Sport Shop
Sporting Goods Store
Littleton, NH
(603) 444-6261
No Website
Aylakai
Clothing Store
36 Main Street
Littleton, NH
(603) 444-9800
www.bigpurpleawning.com
Lahout's – America's Oldest Ski Shop
245 Union Street
Littleton, NH
(603) 444-5838
www.lahouts.com
Lahout's – The North Face® & Patagonia® Summit Shop
99 Main Street
Littleton, NH
(603) 444-0915
www.lahouts.com
Lahout's Discount Warehouse
185 Littleton, NH
(603) 444-0328
www.lahouts.com
Little Red Wagon
758 Meadow Street
Littleton, NH
(603) 444-6308
No Website
Jackson Corner Casuals
50 Main Street, NH
(603) 444-8876
No Website
Northern Outlet of New England
42 Main St
Littleton, NH
(603) 444-8944
www.northernoutlet.com
Badass Outdoors
17 Main St
Littleton, NH
(603) 444-9445
No Website
Cory's Sports Shop
35 Meadow St
Littleton, NH
(603) 444-6261
No Website
Littleton Bike & Fitness
28 Cottage Street
Littleton, NH
(603) 444-3437
www.littletonbike.com
Embroidery Everything
42 Cottage Street
Littleton, NH
(603) 444-0130
www.embroiderybyeverythingpersonal.com
American Society of Dowsers
Headquarters and Bookstore
184 Brainerd Street
Danville, VT 802 684 3417
[email protected]
Antiques Shopping in Littleton, NH
Saranac Street Antiques
141 Main St
(603) 444-4888
www.saranacstreetantiques.com
Just L Modern Antiques
35 Main St
(603) 259-3125
www.facebook.com/midmodliving
Antique Clock Shop
195 Saranac St
(603) 444-6212
No Website
Old Village Furniture
362 Railroad St
(603) 444-0506
No Website
Artful Eye
443 Railroad Street,
St. Johnsbury, VT
(802) 424 1414
www.theartfuleye.com
3 of Cups
2019 Main St
Bethlehem, NH
(603) 869 2606
No Website
Applewood Antiques
580 NH-117
Sugar Hill, NH
(603) 823-7489
No Website
Thayers Inn
111 Main Street
Littleton NH, 03561