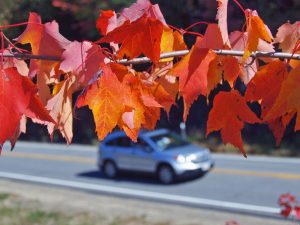 "New England is quite as large a lump of earth as my heart can really take in."
– Nathaniel Hawthorne
With autumn officially arriving on September 22nd, we turn our sights to fall fun in the White Mountains. There's arguably no better place in America to catch THE show as nature goes through her annual ritual of changing colors and shedding leaves. The White Mountains are already becoming a colorful tapestry of brilliant reds, oranges, and yellows amongst the greens. You owe it to yourself to see it in person because a photo on a computer or TV screen can't possibly compete with the wide-open spaces of the great outdoors. The official New Hampshire Tourism website offers a foliage tracker to help guests determine the best time to see this spectacle: http://www.visitnh.gov/vacation-ideas/Foliage-Tracker/
A ride on the Kancamangus Highway is a must this time of year. Just as glorious is the view from the Conway Scenic Railroad or the Mount Washington Auto Road. Of course, you never have to venture far from your room at the Thayers Inn to find beautiful nature scenes to enjoy, plus this is a great time of year to gather around the fire pit, roast S'mores, and gaze up at the stars after dark.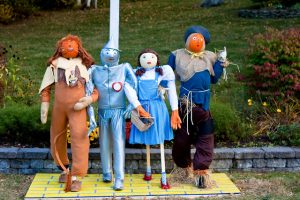 October will bring the popular Return of the Pumpkin People, a village-wide bit of fun in which local businesses recreate scenes from classic pop culture and compete to determine which display is the best. Thayers Inn has always performed quite well in the annual contest/art show, winning first place last year. The pressure's on to top ourselves!
The witching season delights those who enjoy Halloween fun. For the older kids, the Ghoullog at Cranmore Mountain puts a terrifying twist on role-playing. Smaller ones enjoy finding their way out of one of The Maize at Sherman Farm, rated one of the best mazes in New England by Yankee Magazine.
Santa's Village transforms between Oct. 22-29 into a "Silly, Spooky Halloween Extravaganza" that's great for the younger goblins. The Pumpkin Patch Express at Conway Scenic Railroad drops children at the "Pumpkin Patch" to choose a pumpkin to carry back on the train ride back to the station.
In addition to these seasonal favorites, this time of year offers a final opportunity to enjoy summer month fun like Story Land, ziplining, golfing, mountain biking, hiking, and more before Mt Washington Valley transforms into a winter wonderland. When the snow season arrives in force is really up to Mother Nature
Some other upcoming events to consider:
Settler's Green will host a fall festival on Sept. 24, offering horse-drawn wagon rides, pumpkin painting, a bake sale, and more.
The same day, Bretton Woods will host Oktoberfest at Fabyan's Station; Attitash has their Oktoberfest event on Oct. 8-9.
The Fryeburg Fair will return Oct. 2-9 for the 166th annual eight-day fair – one of the best agricultural fairs in the USA.
Columbus Day (Oct. 7-10) will bring another Sidewalk Sale at Settler's Green.
The Jackson Area Chamber of Commerce will host silent auctions, pumpkin carving, pumpkin tastings, magic shows, and more at the 2nd Annual "All Things Pumpkin" Festival Oct. 16-31. The New England & Jackson Invitational Pumpkin Carving Contest is set for Oct. 21-23 at the Jackson Village Park. The "All Things Pumpkin" Tour will feature a horse-drawn sleigh ride to view Return of the Pumpkin People business displays on Oct. 22-23.
The Murder Mystery Dinner Train also returns this fall aboard the Conway Scenic Railroad.
We hope you will visit the area and stay long enough to take in some of these fun activities. Thayers Inn can help you book tickets for some of these events, and we are always happy to suggest things to do while you stay with us. Don't forget to save time for dinner at the restaurant and a treatment in our spa! To book your reservations, visit http://christmasfarminn.com/jackson-nh-hotel-reservations/