We're glad you're thinking about visiting us in Littleton! You're probably thinking of activities to enjoy while you're in town. Here are a few suggestions to get your New England adventure started: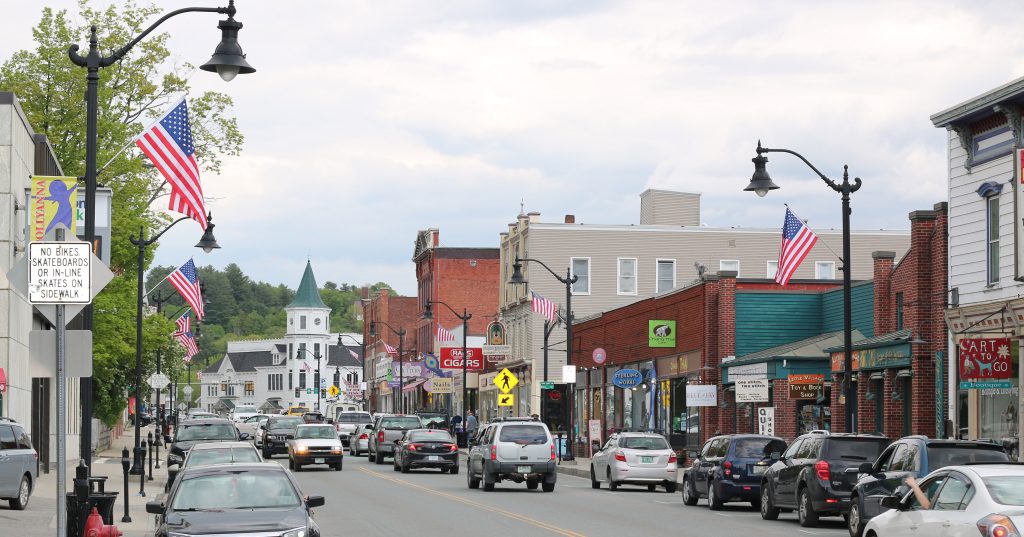 1. Downtown Littleton NH Shopping
If Littleton is anything, it's full of neat shops, most of which are within easy walking distance of Thayers Inn. Find one-of-a-kind shops downtown. Chutters offers the "World's Longest Candy Counter" runs the entire length of the store, offering a rainbow of candy in all shapes and flavors. Another record-setter is Lahout's Ski Shop, aka "America's Oldest Ski Shop," a fourth-generation family business that carries all the equipment, brands, and apparel that hardcore New England adventurers expect. Part indie book shop, part quirky toy shop, Little Village Toy & Book Shop overflows with fun finds (there's more than 20,000 items in stock). For home, clothing, and trinkets unique to northern New Hampshire, check out boutiques like Just L, Pentimento, and Bella Funk Boutique.

2. The Pollyanna Statue
If you're visiting Littleton, it's a must to bring your camera and have a friend snap a photo of you mimicking the cheerful pose of the bronze statue depicting the iconic character from the 1913 classic children's novel by author Eleanor H. Porter. The novelist was born right here in 1868. On June 9th, we'll celebrate Official Pollyanna Glad Day at the sculpture.
3. Walking Trails
Take a stroll along one of the many hiking trails, such as the Dells, Pine Hill Trails, or Kilburn Crags.
4. The Riverwalk Covered Bridge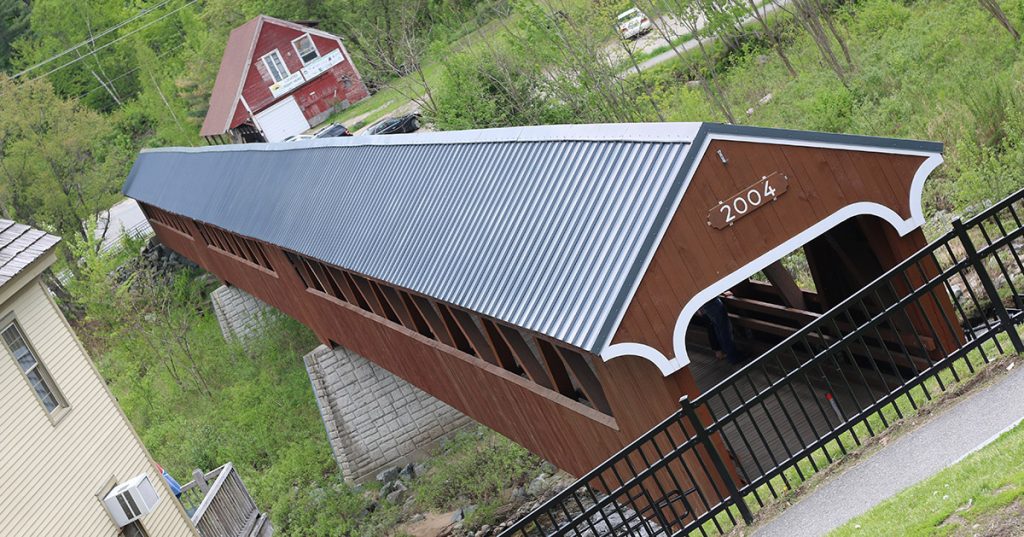 You can get some pretty views of the town and the Ammonoosuc River from this beautiful iconic structure, located one block over from Main Street. The 230-foot pedestrian bridge was built in 2004, so it's not really historic, but you also don't have to worry about it being sturdy. The original bridge was blown down in a storm. It adds so much to our quaint village. Watch the old-timey water wheels and the flow of the water tumbling over the rocky river bed. Engage with the xylophones and drums nearby. You can have lunch at Millers Café or Schilling Brewpub right next to it. Don't forget to bring your camera when preparing for this charming attraction.
5. Schilling Beer Company
While visiting the Riverwalk Covered Bridge, take some time to visit this business. Schilling Beer Co. is a progressive European-inspired small-batch brewery operating from a carefully renovated three-story 1797 grist mill. The Cicerone-educated staff can answer your questions while preparing rustic Neapolitan-style pizzas cooked in a wood-fired oven and designed to pair with their beers.
6. Littleton Diner and Tim-Bir Alley
The Littleton Diner, in operation since the 1930s, is a favorite spot for locals and visitors alike. As we approach the primary season, it will be buzzing with politicians wanting to press the flesh. At Tim-Bir, you must try the smoked salmon. Their chocolate truffles were named "Best Dessert" by Yankee Magazine in 2016. We could go on and on about the many dining options in Littleton, but that's another blog for another day!
7. Take an art class!
The Littleton Studio School are our new neighbors right behind us. It's an amazing building you definitely do not want to miss! If drawing or painting isn't your thing, they offer all sorts of art classes from pottery, jewelry, stained glass, and more.
8. Thayers Inn
Well, of course, you need to take some time to look over our historic hotel, built in 1850. Hopefully as a guest spending the night with us! Don't forget to tag us on social media when you visit Littleton!
Learn more about things to do in Littleton, New Hampshire: http://www.golittleton.com/littleton_activities.php
Frequently Asked Questions
What is Chutters? A presence on Littleton's Main Street since the late 1800s, Chutters is a not-to-be-missed destination for visitors and local residents alike. First-time visitors will be enchanted by all the assortments and excited to fill their bags with many favorites. Locals drop by regularly to pick up a pound of Chutters' famous fudge, or to purchase goodie bags and favors for parties, weddings, holidays, and other special occasions.
What is Lahout's Ski Shop? "America's Oldest Ski Shop," a fourth-generation family business that carries all the equipment, brands, and apparel that hardcore New England adventurers expect.
What is Little Village Toy & Book Shop? The selection at Little Village satisfies every age range, skill set, and fun factor. They have everything from classic toys and games to the hottest new award-winning items available. In addition to playing, the community and team believe that reading is at the core of brain development, and local book shops are crucial to sustaining that. Offering children and ourselves an option away from the screen has been scientifically proven to aid in many areas of health and wellness.
What is The Pollyanna Statue? New Hampshire's most welcoming attraction is the centerpiece of historic downtown as an ambassador of cheer and community spirit for residents and visitors alike. Littleton's jubilant bronze sculpture tributes hometown author, Eleanor H. Porter (1868 – 1920) best remembered as the creator of the world's most optimistic character, Pollyanna, 1913.
Where can I find walking trails? GoLittleton.com is an excellent resource for local walking trails!
What is the Riverwalk Covered Bridge? Over the years and through many conflicts, at least 50 sons and daughters of Littleton have given their lives to help America stay free. In 2002 the NH State Legislature voted to rename the bridge serving the corner of Main and Cottage Streets as Veteran's Memorial Bridge.
What is the Littleton Diner? In 1940 a new Sterling Diner was constructed on the original site, where the Littleton Diner has been an integral part of the community since.
What is Tim-Bir Alley? Chef Val brings creative farm-to-table fare at Tim-Bir Alley Restaurant focusing on seasonal ingredients. He is the recipient of the Dirona Award. ( Distinguished Restaurant of North America) since 2010 from the Sugar Hill Inn. Chef Val brings over 35 years of culinary experience. He has worked at the Mount Washington Hotel, Sunset Hill House, and Private Country Clubs to name a few. He has been featured on WMUR- TV Cooks Corner, New Hampshire Magazine, and has competed in numerous culinary competitions as an ACF member.
What is the Littleton Studio School? The Littleton Studio School educates students in a variety of art media, providing the space, tools, guidance, and encouragement they require to realize their potential. In doing so, they support the community beyond their doors as well, fostering a society where imagination and curiosity flourish.
What is Thayers Inn? Check out our Instagram and see for yourself!