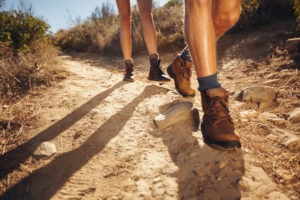 "Going to the mountains is going home." –John Muir
There's something renewing about time spent in nature. Even if you're not a hardcore hiking and outdoors enthusiast, you'll find that carving out a little time to revel in the beauty of all that surrounds us can be a fun, invigorating, and even healing experience. So we've rounded up a few easy hikes in the White Mountains for those visiting Thayers Inn to consider during their stay. Hiking can be for everyone, and –trust us– you won't want to miss the incredible scenery our little corner of New Hampshire has to offer.
Artist Bluff/Bald Mountain
Length: 1.5-mile loop
Catch incredible views in this short, yet wildly rewarding hike. This easy trek features two stops with views of both Artist Bluff and Bald Mountain, some of the most gorgeous peaks in the White Mountains, as well as views of beautiful Echo Lake and Franconia Notch. This kid-friendly loop is a perfect option for a busy day jaunt, as it won't require a huge time commitment. Dogs on leashes are welcome on this trail.
Arethusa Falls
Length: 2.8 miles out and back
This heavily trafficked trail near Bartlett, New Hampshire is rated moderate for difficulty, and features waterfall views of Arethusa Falls, which is considered one of New Hampshire's best waterfalls. You'll love this 160-foot waterfall cascading down a picturesque rock ledge, and the just-under-3-mile trek and 800-foot elevation gain is well worth the effort. This hike is also kid-friendly and fine for dogs on leash.
Beede Falls
Length: 0.3 miles out and back
This easy hike in the White Mountains and local treasure is perfect for beginners! Find the Beede Falls trailhead hidden down a dirt road that sees little traffic, in Sandwich, New Hampshire. Though the falls aren't accessible by road, it's very easy to get to from the parking area and offers an incredible reward for very little effort. The wide, 37-foot cascading waterfall spills like a curtain into a shallow pool with sandy beaches. Though this one is on the outskirts of the White Mountains, you don't want to overlook this gem.
Mt. Willard
Length: 3.2 miles out and back
This moderate hike is perfect– short, simple, and gorgeous, landing you at an incredible vista you'll certainly want to snap a few photos of. Mt. Willard is a heavily-trafficked out and back trail is located near Bretton Woods and features a waterfall. Depending on the time of year for your visit, you may want to have micro spikes for this trail in case of ice and snow. The trail is well-marked, and offers a lot of views for a little effort! This one is also kid and leashed-dog friendly, so take the family.
Boulder Loop Trail
Length: 2.8-mile loop
The heavily-trafficked Boulder Loop trail is located near Conway, New Hampshire, and features a gorgeous forest setting. The moderate hike is kid-friendly, and dogs are allowed if on leash. With views for days, this trail is located near the Albany Covered Bridge on the western end of Passaconaway Road off the Kancamagus Highway (NH 112).
Bridal Veil Falls
Length: 4.8 miles out and back
This out and back trail near Franconia, New Hampshire is rated as easy/moderate, and features breathtaking views of the lovely Bridal Veil Falls. This gorgeous waterfall is found at the end of the Coppermine Trail, and the trailhead can be found on Coppermine Road just off NH 116 south of the Franconia Inn. Though this makes for a great half-day hike, there is a free shelter available for overnight backpackers just 0.2 miles east of the falls.
West Rattlesnake/Old Bridle Path
Length: 1.7 miles out and back
Old Bridle Path is a heavily-trafficked out and back trail near Center Sandwich, New Hampshire. This easy hike in the White Mountains is great for hikers of all skill levels and features amazing lake views that make every step of the way worthwhile. This kid-friendly, dog-friendly trail offers views of Squam Lake that photos just don't do justice. But note that this trail is closed for most of April and May each year due to "mud season," so plan accordingly.
We hope this roundup of easy hikes in the White Mountains has wet your appetite for some outdoor exploring on your visit to beautiful New Hampshire. There are so many incredible pockets of outdoor splendor right outside our back door at Thayers Inn, and we hope you get to take it all in when you come and stay with us. If you have any questions about day hikes or other nearby attractions, ask our helpful staff. And happy hiking!