"There is something about everything that you can be glad about, if you keep hunting long enough to find it." -Eleanor H. Porter, Pollyanna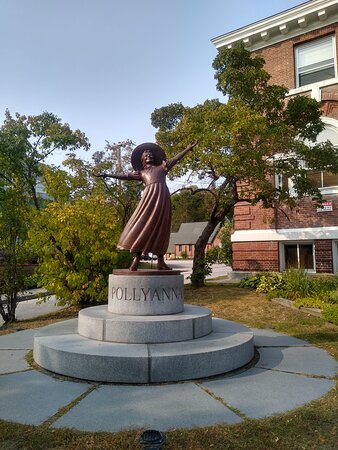 Situated outside the Littleton, NH library stands a statue of a girl. Floppy hat. Huge grin. Arms flung wide open. That girl is Pollyanna, the heroine of a classic children's novel written by Littleton resident Eleanor H. Porter. Porter lived in Littleton from 1868 to 1892, and penned the story of a girl whose optimism could not be squelched. In 1960, Disney adapted a film version of the novel starring Hayley Mills, who actually won an Oscar for her portrayal of the character Pollyanna. In 2002, a bronze statue of Pollyanna was erected in honor of her Littleton creator, and that statue has become quite the landmark for visitors to the area.
White Mountains Attractions
Sometimes referred to as "Littleton's most welcoming attraction," this statue of the book's lovable character, Pollyanna, stands on the lawn of the Littleton Library, inspiring gladness in all who look upon her. In this life, we could all use a little gladness and cheer. This public work of art has spurred many smiles for residents and visitors alike. It celebrates the story of a girl who, despite all circumstances, found a way to help others and to maintain a positive outlook on life. In the story, she plays a game called "the glad game," where she always practices finding something she can feel glad about. That sense of gratitude helps to get her through tough times, and is something we could all use a reminder of from time to time.
Stay With Us at Thayers
If you take a trip to the Littleton, NH area, be sure to stop by and see Pollyanna's smile. You might be pleasantly surprised by how contagious her joy is. She embraces the spirit of this town, a spirit you're sure to feel when you visit. Come stay with us at the historic Thayers Inn, and explore all the lovely things our New England town has to offer, the least of which may be a smile.