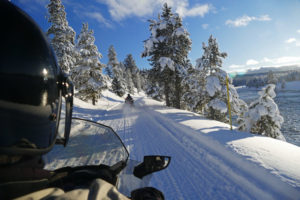 If you've never tried snowmobiling, you're really missing out on a lot of wintertime fun! Imagine speeding off across the thick, powdery winter snow on a snowmobile in the mountains of New England. Seriously, if you're making plans for a trip to Littleton, NH, we highly recommend you block off some time for White Mountains snowmobiling. We've got three solid reasons why you should make snowmobiling a part of your excursion. We're sure you won't regret it.
1– See Nature in a New Way
Snowmobiling is a great way to enjoy nature from a different perspective, and get outdoors even when the snow is thick and piled high. This winter activity allows you to work with the weather, not against it, as you spend time outside with your favorite people, enjoying the sights, and experiencing the area in a whole new way. Few people get the chance to explore the backcountry beauty New Hampshire has to offer in the dead of the winter season; however, on a snowmobile, you can take on the mountains, forests, and plains all blanketed with fresh, powdery snow.
2– Find True Adventure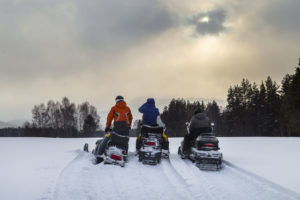 White Mountains snowmobiling delivers the best kind of adrenaline rush! This winter activity gives you an opportunity to get adventurous on your trip to New England. Whether you're gliding over snowy fields or zigzagging through trees on a mountain trail, we bet you'll have the time of your life in the process. You can go as fast or slow as you choose, and follow the trails or take the road less traveled– it's all up to you!
3– Access Remote Areas
On a snowmobile, you can cover a lot of ground quickly and easily. These vehicles also offer a mobility unrivaled, giving you the ability to access remote areas, incredible natural beauty, and untouched scenic overlooks that are unreachable by other means of travel. Find solitude in nature on the back of a thrilling snowmobile.
So when you visit us at the historic Thayers Inn in Littleton, ask our staff about White Mountains snowmobiling opportunities. Take a tour, rent some snowmobiles with your friends or family, and see what it's like to effortlessly zip through a remote winter wonderland with views unmatched anywhere! We can't wait to hear about your experiences when you come back to the Inn. Learn more about snowmobile rental options, and other winter activities on our website.